Professional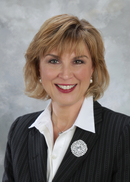 At Prince Financial Services, we believe that before we can speak intelligently about the services that might be appropriate for your ad your family, we need to get to know you. And before you can feel comfortable sharing your goals and dreams, you need to get to know us.
Julie Prince has been a part of the financial services industry since 1989. She is a graduate of Gonzaga University earning a Bachelors Degree in International Business. She has also earned her Chartered Life Underwriter (CLU®) designation from the American College.
The Chartered Life Underwriter (CLU®) designation has long been recognized as the fundamental and foremost educational credential for life insurance professionals. Since 1927, more than 94,000 individuals have earned their CLU®, helping them build a successful life insurance practice by providing clients with knowledgeable and ethical advice. For financial representatives, field management, home office personnel, and others involved in providing life insurance products to the public, the CLU® designation symbolizes continuing growth and commitment to professionalism.
Julie earned the Million Dollar Round Table (MDRT) Qualifying Member Award in 1996, 2004-2009 and a Qualifying/Life Member in 2010-2013. MDRT is the premier association of financial professionals.
Founded in 1927, MDRT provides its members with resources to improve their technical knowledge, sales and client service while maintaining a culture of high ethical standards.
Awards and Recognition
Julie frequently speaks at company and industry conferences, as well as gives presentations with local businesses.
Julie is a member of the National Association of Insurance and Financial Advisors (NAIFA) and has earned the National Quality Award 1999-2010, now known as the NAIFA Quality Award (2011-2013).
The mission of NAIFA is to advocate for a positive legislative and regulatory environment, enhance business and professional skills, and promote the ethical conduct of our members.
NAIFA is a national nonprofit organization representing the interests of more than 70,000 insurance and financial advisors nationwide, through its federation of over 900 state and local associations. Founded in 1890, NAIFA is the nation's largest financial services membership association.
Associations and Memberships
Board Member for Independent Colleges of Washington
Board Member and Treasurer of Change Making Change Fund
Member for the Estate Planning Council of Seattle
Member of the Women Presidents' Organization, Seattle Chapter
Member of Women in Insurance and Financial Services